Firm Overview
The Law Office of Simon Goldenberg, PLLC is a law firm dedicated to consumer protection and vigorously defending the rights of our clients. We offer high-caliber legal representation with a practice that is designed to cater to your individual needs.
Not all debt relief law firms are the same. We have a reputation for working hard to meet our client's goals, as exhibited by a multitude of excellent client reviews. Learn how we are different then your "run of the mill" debt lawyer. Hiring a quality lawyer is instrumental to ensuring that you are given every opportunity to achieve a fair resolution in your matter.

About our Founding Attorney, Simon Goldenberg, Esq.
​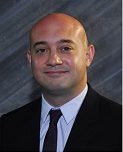 Attorney Goldenberg has also completed training in the field of Credit Scoring and Credit Restoration. Mr. Goldenberg's wide range of knowledge on credit issues enables him to search for nuances in credit law to provide clients with the high level of represenation that they require. Mr. Goldenberg is a graduate of Hofstra University School of Law and is admitted to practice in the State Courts of New York and New Jersey, as well as the Federal Courts in the Southern District of New York, Eastern District of New York, and District of New Jersey.
Attorney Simon Goldenberg is passionate about consumer advocacy and concentrates his practice in the following areas:
Debt resolution
Lawsuit defense for credit cards & student loans
Debt collection harassment
Business Debt Relief
Consumer Bankruptcy
Special Recognitions:
Super Lawyers has selected Simon Goldenberg as a "Rising Star in New York" for the years of 2014, 2015, and 2016 for his contributions to consumer law. Each year, no more than 2.5 percent of the lawyers in the state are selected by the research team at Super Lawyers to receive this honor. Through Avvo.com, Simon Goldenberg has been honered to be conferred with the Client Choice Award for Bankruptcy and Debt Settlement for the years of 2013 through 2016. The American Society of Legal Advocates has conferred the designation of "Top 40 Under 40 Bankruptcy Lawyers" for 2015 to Simon Goldenberg. Martindale-Hubbell and Lawyers.com has recognized Attorney Goldenberg with a Client Distinction Award for providing excellent quality of service and communications with our client's.
About Stephen Basedow, Esq.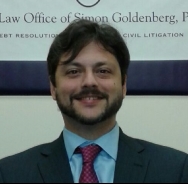 Stephen W. Basedow, Esq., joined the firm as an associate Attorney in January of 2013. He concentrates on matters involving consumer debt litigation, real estate transactions and consumer bankruptcy law. He is a graduate of Chaminade College Preparatory School, the University of Texas at Austin, (B.A.) and Hofstra University School of Law, (J.D.)
He is admitted to practice in New York State and the Southern and Eastern Districts of New York. Prior to joining the firm, Mr. Basedow served as an associate at Fox Rotschild, LLP and Lieb at Law, P.C. In addition to his work as an attorney, Mr. Basedow is licensed by the State of New York as a Real Estate Instructor and Broker.
About Jared Louzon, Esq.
Jared H. Louzon, Esq., is the newest member to join our team of attorneys. He initially joined our firm in 2014 as a part-time intern while attending law school, and has since graduated to become an admitted attorney. His responsibilities include complex legal research, drafting of legal pleadings and motions, negotiating matters pre and post litigation, managing court appearances, and assisting client's in pursuing actions under the FDCPA and other consumer laws. He also has a wide range of knowledge with respect to resolving Federal student loan laws.
He graduated cum laude from the City University of New York, Brooklyn College, and was conferred with his Juris Doctorate from Hofstra University School of Law with a Business Honors Concentration. He is admitted to practice in New York State.
Our Support Staff
The service that our Attorneys provide for our client's would not be possible without the assistance of our exceptional support staff that is dedicated to providing wonderful customer service. Our goal is to provide a seemless experience to each and every client.
Learn Your Rights! Speak To One Of Our Debt Lawyers Today! Click Here to Request a Free Evaluation or Call (888) 301-0584.
If you are a resident of the State of New York and are seeking trustworthy legal assistance from an attorneys competent in the area of debt relief, debt consolidation, debt settlement, and credit card lawsuit defense, then contact the Law Office of Simon Goldenberg, PLLC for a free phone evaluation to learn how we can assist you with resolving your legal issues.